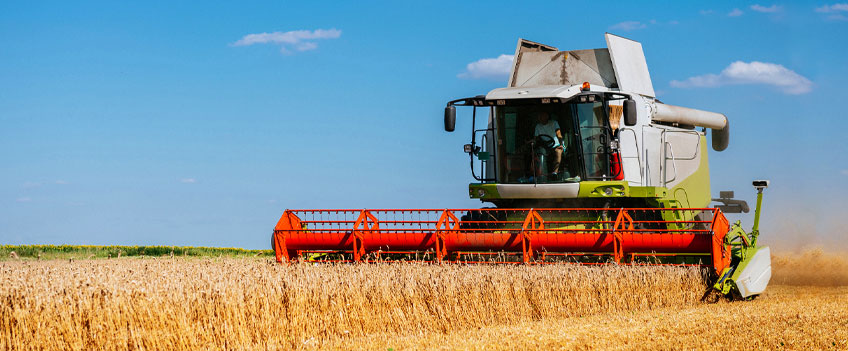 Linear drives for Agricultural Machinery
Dust, heat and unevenness in the ground are just a few of the challenges that agricultural machines have to deal with day in and day out. Phoenix Mecano's versatile drive solutions can withstand these extreme conditions at all times. Our linear drives have an extremely robust construction and, therefore, outstanding environmental resistance and durability. Thanks to their compact design, they are very versatile and can be used for both mobile and stationary machines – even when space is limited. Such applications include:
Balers
Fertilizer spreaders
Harvesters
Field choppers
Combine harvesters
Crop protection equipment
Mechanical weed control
Cultivation technology
When installed in agricultural machinery, our robust linear drives are capable of a wide range of functions. They can, for example, adjust sieves, regulate the dosage of products, and open and close grain tanks. The maintenance-free DC motors used inside Phoenix Mecano's linear drives reinforce the excellent reliability and operational safety of these drive systems.
Agricultural machinery applications
Much is demanded of modern agricultural machinery. It should work efficiently, be environmentally friendly, be easy to use, and keep pace with the growing complexity of farming. When considering precision farming, automation is also added to the mix: many sensors must be linked with computers, control units, communication modules and electrical actuators.
Why linear drives are important
Linear drives help to meet these more demanding requirements. Thanks to their simple digital control, uncomplicated networking and ease of maintenance, they are increasingly being used as replacements for hydraulic actuators. A key advantage is that they operate with great, repeatable precision and provide accurate position feedback. This enables complex, largely automated control systems for agricultural machinery to be implemented
Requirements for linear drives in agricultural machinery
Only high-quality linear drives are suitable for use in agricultural machines. They must be insensitive to external influences, including cold, heat, dust, chemicals, moisture, and water jets, which are unavoidable in tough everyday use. Likewise, strong vibrations or blows to the housing must not be able to impair functionality.
These influences cannot affect the drive's repeatable accuracy in the millimetre range nor its service life – because every minute that an agricultural machine is out of action costs money. And if the machine is working incorrectly or inaccurately, this can seriously damage the ground or the machine itself. That is why linear drives are required to work with absolute reliability for many years and to be able to report any malfunctions immediately on their own.
Highly automated, complex agricultural machinery (in precision farming) also requires favourable installation dimensions and uncomplicated integration into control systems.
Why use linear drives from Phoenix Mecano?
Phoenix Mecano's drive solutions meet the requirements for linear drives in agricultural machinery precisely. You benefit from these seven advantages:
Compact: The electric cylinders are so compact that they can be easily installed in virtually any machine.
Flexibly adaptable: All our drives are modular in design. We can flexibly adapt them to your construction.
Precise: We are proud that our linear drives are manufactured with Swiss precision. They deliver repeatable adjustment accuracy in the millimetre range – even when used in a rough environment.
Intelligence: The LD1000C model is equipped with a miniature PLC on the circuit board. This intelligent linear drive communicates with your control systems via the CAN bus.
Highest protection class: Many of our electric cylinders are certified for the highest protection class IP69k (static). They even withstand the direct jet from a high-pressure cleaner.
Robust: All our products feature extremely robust constructions. They cannot be knocked out of step by impacts, vibrations or other mechanical influences.
Security for your investment: If you reorder additional, identically configured linear drives after a few years, we can deliver them to you immediately. That's because we know how important the continuity of the model range is for you.

Typical agricultural machinery applications for our linear drives
Combine harvesters: Adjustment of the various threshing components, reel adjustment, adjustment of the discharge hopper and the grain sieve
Fertilizer spreaders: Adjustment of the spread pattern and dosage
Balers: Precise tightening of the net, net cutter regulation
Cultivation technology: Seed dosage, raising/lowering the bout marker on seed drills