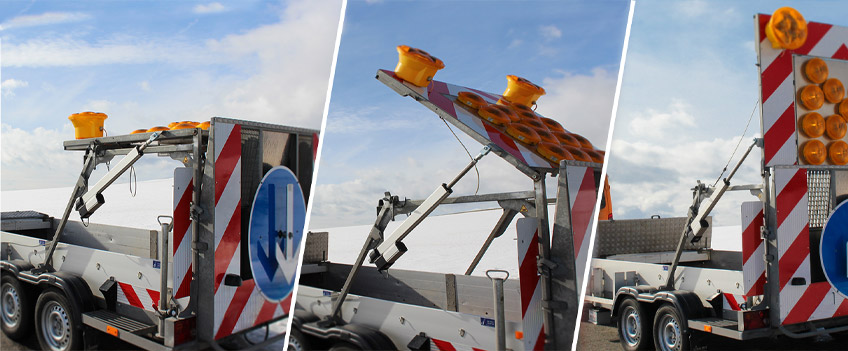 Linear actuators with outstanding environmental stability
Drives are exposed to extreme conditions during usage in agriculture, off-highway and industrial applications. Not every device can withstand heat, dust, cold and vibrations – but linear drives from Phoenix Mecano can because they meet these requirements. Find out why here.
Why a linear actuator from Phoenix Mecano?
Phoenix Mecano is a manufacturer for linear actuators specifically designed for use under extreme conditions. One of their core features is their robustness and durability. The compact linear dives not only offer high operational reliability in extreme climatic conditions (hot/cold) while they can also withstand UV radiation in the open field for several years without any issues. In addition, the devices have a high degree of protection -The linear actuators LD1000 and LD75, for example, up to protection class IP69k. This means they are protected against dust and water, even under heavy pressure on the housing. The maintenance-free DC motors used (12V, 24V and 48V) ensure the high reliability of our drive systems.

Another reason for choosing Phoenix Mecano is that we can offer individually customised linear actuators tailored to your specific needs starting from a single piece. Our LEAN production enables us to manufacture any desired stroke length within the mechanical possibilities of the respective electric cylinder. In most cases, this reduces the built-in dimension and thus saves valuable installation space. The compact design also facilitates installation in existing systems and machines. Of course, all other components such as cable length, connectors, receptacles, color, etc. can also be customized to your needs and specifications.

Phoenix Mecano also offers electric cylinders as plug and play system solutions. In this case, you receive a package comprising of the cylinder with operating unit and a control system configured to your requirements. True to the motto: "Unpack, install and get started".
What are the advantages of linear drives?
Electric linear actuators have several advantages over pneumatic or hydraulic cylinders. They are very energy efficient and have a high degree of efficiency. In electric cylinders with intelligent controllers on board, the speed and acceleration can be adjusted individually. Each travel motion is executed precisely and quietly. In addition, linear actuators require no compressor, valves, or hoses, are low maintenance, and leak-free. This means that the slightly higher investment costs are quickly recouped.

Another major advantage of linear drives is the ability to move several cylinders synchronously. This opens up completely new possibilities when we think of complex systems or applications.
Where are electric linear actuators used?
Electric cylinders are used wherever push, tilt and pull movements must be executed with a certain force. Or when there is a requirement to precisely control certain positions. Linear actuators from Phoenix Mecano are known for a wide range of mobile and stationary applications in very different industries.
Agricultural technology (in machinery and equipment)
Agricultural buildings (for storage and selection)
Agricultural automation and robotics
Special crop technology (fruit and vegetable crops)
Agricultural selection and processing (for mills and mixed farms)
Animal husbandry (stable and feeding technology)
Lawn and golf course maintenance (mowing and maintenance technology)
Municipal technology (cleaning)
Forest technology (machinery and equipment)